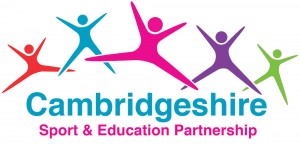 Three School Sport Partnerships in Cambridgeshire have come together to create a charity arm, the Cambridgeshire Sport and Education Partnership (Cambs SEP). The purpose of this is to grow the current network and incorporate significantly greater countywide expertise and experience. Working closely with the Cambridge Advisory Service, Youth Sport Trust, Living Sport, Local Authorities and health partners we will be able to provide a cohesive approach encompassing education, sport, health and professional development.
Cambs SEP will also enable us to access further sources of funding and enhance the quality of support available to develop Physical Education and School Sport provision in partnership schools.
Cambs SEPs first project was the development and launch of a new Team Building Resource and associated training package for schools which you can find out more about on 'Our Projects' pages. We were also successful in securing £10,000 through the Big Lottery to support the delivery of 12 enhanced Change 4 Life Clubs across the county. We are  currently working on a number of other funding applications through Sport England and Children in Need.
We look forward to bringing you more news from Cambs SEP as the charity develops.