Year 5/6 Bee Netball Leagues
11 October, 2021 from 4:00 pm

-

28 April, 2022 from 5:30 pm
Event Navigation
FOR ALL,

 

TARGETED,

 

COMPETITIVE
All of our events will follow our new event themes; For All, Targeted & Competitive. These themes have been designed to ensure we provide events to benefit all young people.
FOR ALL– These events are for everyone and are delivered in school. They focus on providing 60 active mins for every child whilst supporting their physical, social and emotional wellbeing.
TARGETED– These events target specific groups of young people who would benefit the most from having positive experiences of sport, physical activity and competition. The activities and outcomes are designed to reflect the young people's needs and motivations.
COMPETITIVE– These events are for pupils who are ready and prepared for competition and enjoy performing and competing against others. They provide the opportunity for competition in a positive and friendly environment where the focus is on enjoyment and supporting the wider development of young people as much as the outcome of the event itself.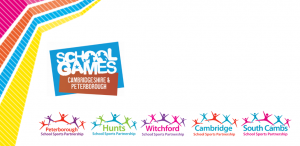 This is a COMPETITIVE event for children in Year 5/6 who are ready for competition.  The aim of this event is to support individual development in sport.
The Bee Netball Leagues are played at local venues over two rounds in a round robin format. All teams qualify from their local league for a central venue SSP finals night. All teams entered are expected to attend both rounds. Please enter by booking onto the league of your school's catchment secondary school.
Teams play each team in their league with venues at the following secondary schools:
IMPINGTON & COTTENHAM:

Round 1

4th November

 (4-5.30pm) 

Round 2

 1st March 2022 (4-5.30pm)
COMBERTON: 

Round 1 

12th October (2pm-3.30pm) 

Round 2

15th March 2022 (2pm-3.30pm)

MELBOURN: 

Round 1 

18th October (4-5.30pm) 

Round 2

 7th March 2022 (4-5.30pm)
BASSINGBOURN: Round 1 12th October (1.30-3.00pm) 

Round 2 

15th March (1.30-3.00pm)
LINTON: 

Round 1 

14th October (4-5.30pm) 

Round 2

10

th March (4-5.30pm)
SWAVESEY: Round 1 19th October (4-5.30pm) 

Round 2

8th March (4-5.30pm)
CAMBOURNE:

Round 1

11th October (4-5.30pm) Round 2 7th March (4-5.30pm)
For those venues where the date and time are to be confirmed the round 1 dates will be between 11th and 22nd October and the round 2 dates between 7th and 18th March, times are usually between 4pm to 5.30pm
The Bee Netball game is 5-a-side, but all squads/teams should have a minimum of 7 players and maximum of 9 which may consist of boys and girls, although only 2 boys may be on the court at any time. Players rotate round the positions as per the rules, every half time and at the end of each match.
Each team should come with an adult prepared to umpire their team's matches and one to supervise the players. Where possible we will endeavour to provide sports leaders to help umpire matches.
Each team playing in this league qualifies to a finals tournament where you will play teams from the other local divisions. Which finals tournament you are invited to is determined by your finishing position in your division and you will be notified of this after all divisional games have taken place across the Partnership.
B Team Finals: 31st March 2022 – 1.30-4.30pm at Impington Village College
A Team Plate Finals: 26th April 2022– 1.30-4.30pm at Comberton Village College
A Team Shield Finals: 28th April 2022 – 1.30-4.30pm at Impington Village College
There is a shield/plate presented to the winning team at each final along with medals for the top two teams and certificates for all players. The top four teams in the A Team Shield Final will be invited to represent the SSP at the County Final on 24th May 2022.
Further information on Bee Netball including full rules, downloadable resources and rotation sheets are available here
Primary School Netball League Information