County Young Coach Academy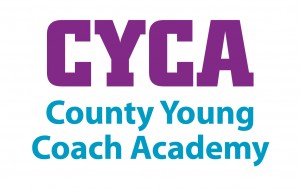 The aim of the County Young Coach Academy (CYCA) is to identify, support and develop our coaches of the future by offering a programme of training, personal development and mentoring support delivered by experienced coaches.
The CYCA was one of just ten piloted nationally in 2013-14 through our work as a lead partner for Leadership, Coaching and Volunteering, with the Youth Sport Trust. After an extremely successful pilot we will be further developing the CYCA programme during 2014-15 and will continue to work with Living Sport, the County Sport Partnership for Cambridgeshire and Peterborough as a key delivery partner in this project.
The Academy provides a pathway from school/ college leadership and volunteering programmes into coaching and possibly a career in sport by bridging the gap between school and community systems and signposting you to further opportunities. The Academy is aimed at young people aged 15-18 years that want to develop as coaches, gain coaching qualifications or training and are committed to actively coaching within a school and/or community setting. Sessions take place once every half term/ 6 times a year and are held in the evening or at a weekend at a central venue. A wide range of topics are covered and may include the following; training needs analysis, high quality coaching, FUNdamentals of movement, strength and conditioning, first aid and diet & nutrition.
We are pleased to announce that after a tough selection process we have recruited 27 new recruits into the CYCA programme for 2014-15. Watch this space for more information and photos after the welcome event on 22nd October